1
PLEASE DO NOW!
What is success?
Write a minimum of three (3) lines.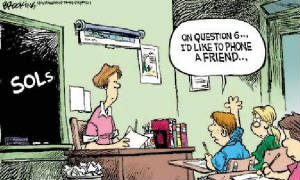 What does this cartoon tell us about success?
3
"Of a bad beginning cometh a bad end,
Of a good begeinning cometh a good end."
John Heywood
1497-1580
What do you think this writer is saying?
5
Attach the handout:
Walking the Road to Success
The Story of Jackson (from class)
How does this story make you feel?
What advice do you have for Jackson to help him "walk the road to success?"
Recreate a brief conversation between Jackson and you to help encourage him to reach his goals.

Include all the wisdom you have gained from your own experiences as well as the ideas you have learned about success in social studies.
6
Action Step
On a 3 by 5 card, create three (3) goals for the first marking period:
Physical

Social or Family

Academic
Remember...
Are your goals MEASURABLE?

Can YOU CONTROL the outcome?